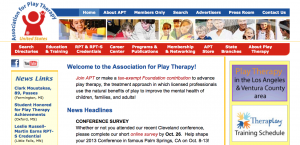 Amy is a proud member of the Association for Play Therapy (A4PT). The association has affiliated organizations throughout the United States with state chapters spanning the nation. The Association for Play Therapy does much to advance this amazing profession and the Power of Play in the lives of children (And, adults for that matter).
The association has many different branches, and Amy is connected to some wonderful leaders of the Kansas State Association for Play Therapy  ; she is a member and has grown professionally from the events, conferences, and information sponsored by this branch.
This association is a wonderful source of information, connecting professionals to current research, approved education programs leading to certification, and other resources.  Amy completed the play therapy certification program at MidAmerica Nazarene University (MNU). MNU meets the high standards set by the APT.
The MidAmerica Nazarene University Play Therapy Certification Program is highly rated and full of talented and experienced professors that provide a wealth of hands-on education and knowledge.  This program was one of the first Approved University Centers in the country.   MNU helped connect Amy to her supervisor, Jason Zoellers, LPC, who owns Lumina Child and Family Counseling, LLC and practices as a Registered Play Therapist-Supervisor.
If you're interested in more information about Play Therapy, want to find out how you can become a Registered Play Therapist, or just want additional resources, visit the A4PT website for some helpful content!