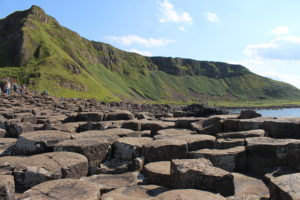 Meeting Jesus in the middle, and what it means, I've been pondering this, my friend.
In the in-between times, without the excitement of the beginning or the end.
So much importance in the mundane, the daily, moments that make a life,
Soothing tears and banged up knees, and silly little strife.
It's the middle where the flower is growing, different from the seed or bloom,
the place where perseverance, training, faithfulness resides if we will give them room.
David had a middle, out on the hills and plains,
alone from the world, in a job unnoticed, but this didn't stop his joyous refrain.
He killed lions there, grew to know his God, and relished the quiet beauty
of faithfulness in the mundane, of tending sheep in the rain,
unaware of the giants that would be need to be slain.
I'm in the middle, and some parts are without parallel:
My children's faces discovering worms and experiencing storms
digging in dirt, reading books, and cackles that delight and warm.
Moments at home, moments of quiet, and wild moments too,
where dance and tea parties are so much fun, as well as moments of learning battled and won.
But there are other dreams and passions that for now are waiting and pushed aside
And sometimes I get edgy and restless to pursue them now, forgetting to reside
In His perfect peace, 'the quietness and trust that is our strength.'
He knows our time table, He knows our seasons, and oh may I not miss
The work in the middle, the training that is here, the sanctifying mist—
that is nourishing the ground for things to come, for He says with resound
'He will give rain for the seed with which we sow in the ground'—
Seeds in the exhausting moments, and happy ones too,
sown in time spent, quiet moments of work, little decisions to love when it's not easy for you.
Oh Lord, help me to stay on Your path, be it beginning, middle, or end
That I would be attentive to the 'word behind me' saying, 'walk in this way'–
never letting go of Your precious hand.
Isaiah 30:15, 21, 23
I've been thinking lately about "meeting Jesus in the middle." The in-between times, without the excitement of the beginning or the end, just doing the thing in the mundane, every day life. I'm seeing more and more the intensely important components of the middle, how essential the middle is for the end to mean anything at all. Lots of growth, training, perseverance, and faithfulness-producing moments. Or not. If we choose not to see the significance. David is one of my favorite Bible characters for a lot of reasons, but to put it simply, he resonates. His bluntly expressed emotions (he felt things very deeply), his heart for worship, his love and awe for nature, his hunger for more of God…and his absolute assurance that his God was trustworthy…no matter his circumstances.  I think about those beginning years, the "middle" time for him, all the decisions in little moments to be faithful in the small, and how essential they became for the big later in his life.
I'm in the middle right now. And so many parts, I'm really loving. I love being a momma, I love watching my children's faces discovering and experiencing life, I love having the opportunity to enjoy home and quiet moments (and wild ones) with my girls. But I have some other dreams on my heart. Dreams that include some other passions and skill sets that aren't being used a lot currently. And sometimes I get edgy and restless to pursue them now. Sometimes I question my life and wonder if I'm doing enough. And sometimes I'm tempted to start things before I'm ready. Why do we always tend to want to get in a hurry with things in life? God is not in a hurry. He leads with a steadiness, and each part of the journey with Him as purpose. Anyway, God used Isaiah 30 in my heart in a mighty way recently.